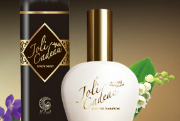 The name comes from the French, meaning "Beautiful Gift" – an aromatic expression of exceptional luxury. It is the beautiful magic created when a couple spends time together.
The spectacular vibrancy of flowers in full bloom; hints of fruit, green and woods full of vitality; the sweet seduction hidden in enchanting spices.
With the passage of time, the floral-fruity fragrance of Joli Cadeau undergoes a deep, sweet transformation to create an enduring memory of love, joy and the bond shared between two souls.
---